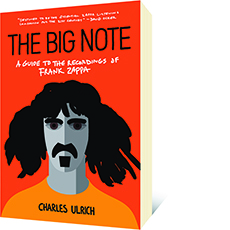 The Big Note: A Guide to the Recordings of Frank Zappa
736 pages, 6×9 inches

Price:

$45 CAD · $39 USD

ISBN:

9781554201464

Date published:

2018-05-13

Availability:

not yet published
Buy the book
Payments processed by PayPal
Canadian customers
US & international customers
About The Big Note
"An astonishing 15–year work of research, Ulrich has created the ultimate encyclopedia of all Zappa & Mothers recordings. The details of the sessions and of the musicians who participated are as fascinating as one of Frank's best compositions."
––– original Mother Art Tripp


The Big Note is the complete guide to the music of Frank Zappa — 100 albums recorded over 35 years, the 80+ players on them, each one of 1,772 tracks described in detail, backed up by 1,424 citations.

Based on hundreds of interviews, letters, and e–mail correspondences with scores of musicians, singers, engineers, artists, copyists, and others who worked with Zappa, The Big Note provides the liner notes that every album in the protean and prolific composer's oeuvre cries out for. It is the indispensible resource for any FZ fan or scholar.

Who's playing what on each track? When was this recorded? How did FZ put this together? Just what is the Apostolic Blurch Injector? Who's playing borbangnadyr on "Calculus"? What the heck are we listening to, anyway, and why does it sound so familiar?

In a work of careful scholarship that itself took more than fifteen years, Charles Ulrich answers all these questions, along with a whole lot of others most listeners probably didn't even know were lurking within FZ's vast continent of recorded output.