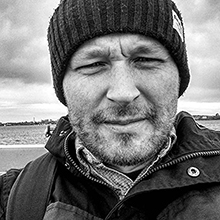 Stephen Lee Naish
Stephen Lee Naish is a writer, independent researcher, and cultural critic. Originally from Leicester, UK, he now resides in Kingston, Ontario, Canada.

Stephen studied media and filmmaking at Leicester college in the late '90s. He then went on to form a one-man film company called FrameDropFilms, which produced music videos, music documentaries, and video installations for local, and visiting bands and artists. When the smell of stale beer and dirty cigarette smoke got too much, he turned his attention to writing about film and popular culture. He continued his studies with The Open University in the fields of creative writing, essay writing, and contemporary politics.

Stephen's writing explores film, politics, and pop culture and the places where these entities meet. His writing has appeared in numerous journals and periodicals, including Candid Magazine, The Quietus, 3:AM, Empty Mirror, Gadfly, and Everyday Analysis. He also writes book reviews for Review 31, Hong Review of Books and LSC Review of Books.

He is the author of several books, the essay collection 'U.ESS.AY: Politics and Humanity in American Film (Zero Books, 2014), Create or Die: Essays on the Artistry of Dennis Hopper (Amsterdam University Press, 2016), Deconstructing Dirty Dancing (Zero Books, 2017), Riffs and Meaning (Headpress, 2018), and recently contributed to the music series Modern Music Masters.
Books by Stephen Lee Naish