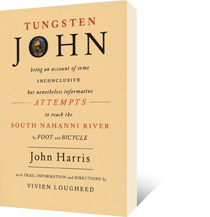 Tungsten John: The South Nahanni River by Foot and Bicycle
272 pages, 6×9 inches

Price:

$21 CAD · $21 USD

ISBN:

9780921586708

Date published:

2000-05-01

Availability:

in print & available
About Tungsten John
The South Nahanni, one of North America's wildest and most spectacular rivers, rushes through this park in the southwest corner of the Northwest Territories. John Harris and his partner, climber extraordinaire Vivien Lougheed, mount an expedition to this glorious but dangerous region.

Harris's conversational account builds momentum as the party follow in the footsteps of a pair of mysteriously – and grotesquely – despatched turn–of–the–century prospectors. Will they end up bear fodder? Or just covered in blisters? The sheer thrill of roughing it in the bush permeates every page of this spellbinding adventure yarn.

The gems unearthed during Harris's archival spelunking, recounted with his trademark dry wit, help pace the hikers. Detailed trail notes written by Lougheed alternate with the narrative to make this a practical guide to hiking the South Nahanni region. Whether you're a seasoned explorer or just a fan of colourful, down–to–earth outdoors stories, you will savour the tongue–in–cheek travelogue that is Tungsten John.