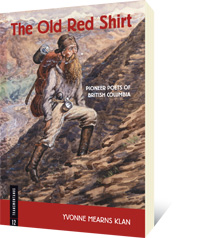 The Old Red Shirt: Lost Poets of British Columbia's Past
112 pages, 7×10 inches

Price:

$16 CAD · $16 USD

ISBN:

9781554200061

Date published:

2004-07-08

Availability:

OI
About The Old Red Shirt
Welcome to BC's frontier days, when loggers and laundresses penned poetry, and entertainment consisted of reciting verse 'round the fire.
The Old Red Shirt is a rollicking collection of old–fashioned pioneer poetry. Selected by longtime amateur BC historian Yvonne Klan, the poems address the social issues of the day, teach moral lessons, and reflect the unique atmosphere of the province's early days.
Klan's lively and informative prose introduces us to the larger–than–life characters behind the verses. Read about Dr. George Dawson, Dawson Creek's namesake, a hunchbacked man who explored the province and penned surprisingly delicate poetry about geography and rocks.
Shed a tear for John Fraser, son of Simon, who lost his fortune to the Caribou Gold Rush and slit his own throat at the age of 32. Shout "hurrah" for the hurdy–gurdy lasses as they play havoc with the hearts of the gold–digging lads.
The Old Red Shirt is by turns colourful, tragic and funny.
The Old Red Shirt is number 12 in the Transmontanus series.