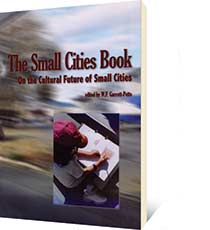 The Small Cities Book: On the Cultural Future of Small Cities
376 pages, 7×10 inches

Price:

$35 CAD · $35 USD

ISBN:

9781554200092

Date published:

2005-05-03

Availability:

in print & available
Buy the book
Payments processed by PayPal
Canadian customers
US & international customers
About The Small Cities Book
When we think of Culture (with a capital C), big city life comes to mind. Yet as The Small Cities Book demonstrates, what constitutes culture in a small city is just as rich.
In these twenty–five essays, poems, stories, and visual pieces, the authors of The Small Cities Book explore what it means to live in a smaller community during the era of global megacities. The impact of globalization has heightened concerns around cultural sovereignty, and has raised new issues regarding national and regional identities, cultural autonomy, and authenticity. The Small Cities Book localizes questions of globalization and cultural identity at the municipal level, and explores the challenges and possibilities facing smaller cities.
Using the central British Columbia city of Kamloops as their example, the authors explore notions of social capital and community asset building, especially as they relate to the politics and aesthetics of self–representation, to notions of home and homelessness, to ideas of space and a local sense of place.
Contributors include bill bissett, Garry Gottfriedson, Robert Kroetsch, Jacqueline Turner, Aritha van Herk, Marianne Ignace and George Ignace, Lon Dubinsky, Helen MacDonald–Carlson, Sherry Bennett, John Bratton, Don Lawrence, and Ginny Ratsoy.