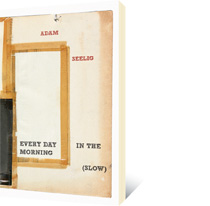 Every Day in the Morning (slow)
152 pages, 6×9 inches

Price:

$16 CAD · $16 USD

ISBN:

9781554200511

Date published:

2010-10-15

Availability:

in print & available
About Every Day in the Morning (slow)
Every Day in the Morning (slow) is a work that looks and reads like no other.

Sam, a composer, reflects on his floundering career, life with his lover and tensions with his father. Some thoughts, like facial hair and breakfast, are mundane; others, like love, money and war, are often overwhelming. At turns laughable and vain, at others, tender and considered, Sam's feelings and ideas turn continuously. The result is an oddly lyrical streamof– consciousness that's as conversational as its appearance is unconventional.

Spare text and the generous white space invite a distinct interaction with the story, one where every detail, every placement and every repetition influences meaning. The lack of punctuation allows the reader the freedom to internalize this exquisitely crafted work and understand the protagonist's state of mind.

The exceptional style of Every Day in the Morning (slow) amounts to a kind of thinging, somewhere between singing and thinking, thing and thought, utter brilliance and complete crap. A novella with long poem features, slow breaks the rules of both genres, while at the same time offering an addictive and compulsive flow that may make it the fastest book you will ever (want to) read.