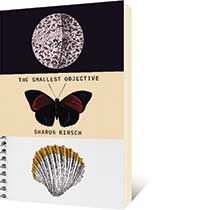 The Smallest Objective
272 pages, 6×9 inches

Price:

$22 CAD · $19 USD

ISBN:

9781554201556

Date published:

2020-05-28

Availability:

in print & available
About The Smallest Objective
A lantern slide, a faded recipe book, a postcard from Mexico, a nugget of fool's gold — such are the clues available to the narrator of The Smallest Objective as she excavates for buried treasure in her family home.

Together, these objects belonging to several Jewish personalities afford an intriguing vantage point on 20th‐century Montreal — from a Runyonesque character well-known by the city's gossip columnists to a Lithuanian botanist versed in the fossil record to a young woman whose newfound opportunities mirror the promise and ambiguities of the city itself. As the narrator struggles with her mother's failing memory and final decline, unexpected secrets are revealed and expired truths exposed.


Catch the highlights from Sharon's live Zoom launch with host Jeanette Kelly. In partnership with the virtual bookseller for the event, Paragraphe Books.
You can find the full launch recording here.
Watch Sharon read from The Smallest Objective below.
And have a listen to her CBC Radio interview with Ainslie MacLellan about the history behind the book here:
Sharon also did an interview on CTV with Caroline Van Vaardingen for Alzheimer's Month, which you can see here: