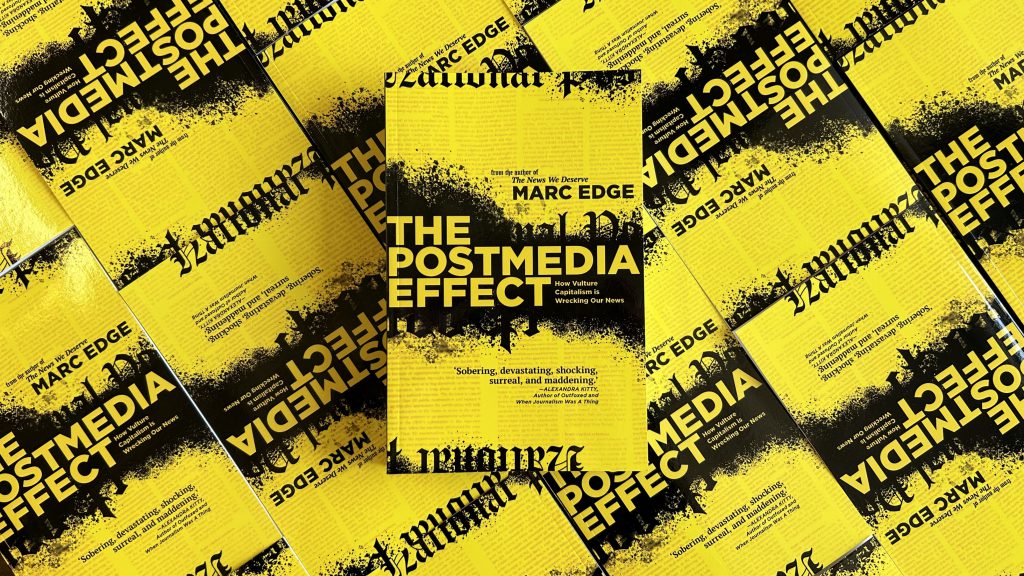 The Postmedia Effect is available today!
Detailing the past two generations of gutted newsrooms, dwindling reporting staff, and funds funnelled to profit margins, Marc Edge takes Canada's dominant newspaper chain, Postmedia, as a case study laying bare the changes in news economics that have devastated Canadian newspapers. Described by Alexandra Kitty in the foreword as 'sobering, devastating, shocking, surreal, and maddening' The Postmedia Effect is a must-read.
Praise for The Postmedia Effect:
'The mainstream media has been dismantled in recent years. One reason is that it's been bought up by 'vulture' investment funds with no interest in journalism. Marc Edge's book The Postmedia Effect is a devastating account of what happened to Canada's largest newspaper chain when such funds got hold of it. It's a sobering read, especially if one is alarmed about the state of a free and diverse media.'
– Bruce Livesey, author of Thieves of Bay Street
'Like the Murder on the Orient Express, there were so many perpetrators involved in the murder of our newspapers. Now that Edge has given such a clear explanation, we might have a chance to revive the corpse.'
– Mark Bourrie, author of Big Men Fear Me
'The Postmedia Effect is one of Marc Edge's best writing efforts to date. The story is compelling, informative, and maddening. The narrative he crafts has elements of Greek or Shakespearean tragedy, filled with hubris, self-delusion, deception, power-hungry schemers, and, if you're Canadian, a feast of tragedy.'
– Marshall Soules, author of Media, Persuasion and Propaganda

Click here to Shop Local and find a copy of The Postmedia Effect at your favourite independent bookstore!
Or online at:
Chapters
Amazon.com
Amazon.ca
Ebooks available on:
Kindle
Kobo
---
MARC EDGE, a business journalist who worked for dailies in Vancouver and Calgary before completing a PhD in media economics, has been documenting the political–economic transformation of the news business from its mid–century concentration (Pacific Press, 2001), through "convergence" (Asper Nation, 2007), and now, in his new book, the dire effects of the financialization of the news business. His work has also appeared in The News We Deserve (2011) and Red Line, Blue Line, Bottom Line (2004). He lives in Ladysmith, BC.