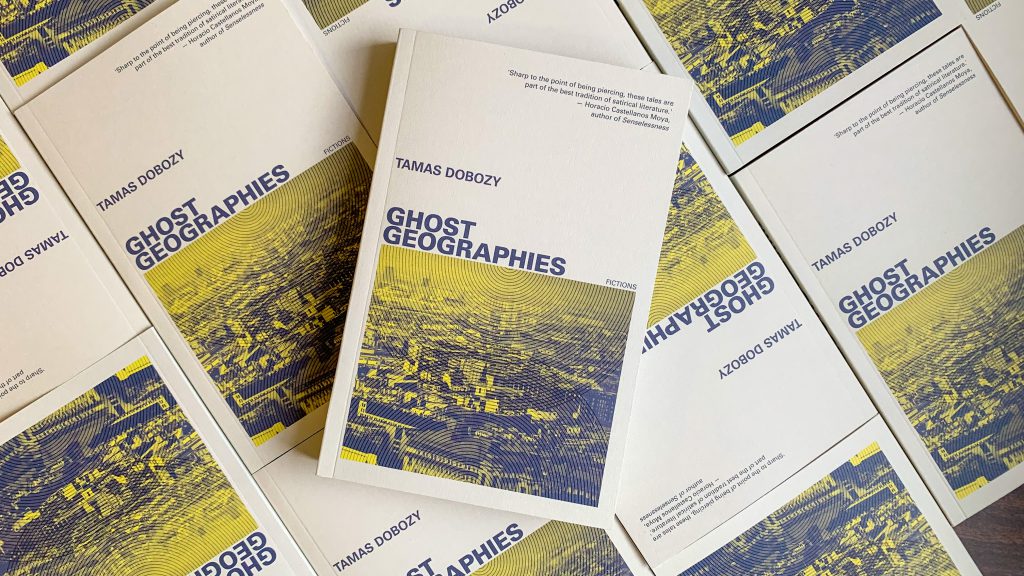 Join us on Zoom for another virtual book launch. Tamas Dobozy's Ghost Geographies launches next weekend, with host Matt Rader.
A polyphonic descendant of Kadare, Bolaño, and Sebald, Tamas Dobozy masterfully traces and thwarts the porous borders between fact, fiction, ideology, history, and humor. The stories that make up Ghost Geographies, including "Krasnogorsk-2" (National Magazine Awards 2014 Gold Medal for Fiction), and "Crosswords" (Previously titled "No. 10" Best Canadian Short Stories 2017), constitute a collection that "isn't for the faint of heart" according to Brett Josef Grusibic in The Star "Its rewards, however, are ample, its craft impeccable."
Check our previous news post for a preview of the book and to find out where you can pick up a copy of Ghost Geographies.
TAMAS DOBOZY is the author of three previous collections of short fiction and novellas: When X Equals Marylou (Arsenal Pulp Press, 2003), Last Notes and Other Stories (HarperCollins Canada / Arcade (US), 2005), and the Governor General's Award finalist and Writers' Trust Award winner, Siege 13 (Thomas Allen / Milkweed (US), 2012). 5 Mishaps, a limited edition collection of five new stories, was published in early 2021 by School Gallery, London, UK. Dobozy lives in Kitchener, ON.
MATT RADER is the author of five volumes of poetry, a collection of stories and a book of non-fiction. Rader teaches writing at the University of British Columbia Okanagan. He lives in Kelowna, BC. His latest book is the collection of poems, Ghosthawk.
You can find Ghost Geographies at these local bookstores:
:: Munro's Books – Victoria, BC
:: Iron Dog Books – Vancouver, BC
:: Hager Books – Vancouver, BC
:: Black Bond Books – Surrey, BC
:: Huckleberry Books – Cranbrook, BC
:: Sea & Summit Bookshop – Parksville, BC
:: Laughing Oyster Bookshop – Courtenay, BC
:: Book City – Toronto, ON (Queen St E, Danforth Ave, Bloor St W, & Yonge St)
:: Type Books – Toronto, ON
:: Queen Books – Toronto, ON
:: Another Story – Toronto, ON
:: Words Worth Books – Waterloo, ON
:: Novel Idea – Kingston, ON
:: Perfect Books – Ottawa, ON
:: Singing Pebble Books – Ottawa, ON
:: Sleuth of Baker Street – East York, ON
:: Someday Books – St. Catharines, ON
:: The Bookshelf – Guelph, ON
:: Manticore Books – Orillia, ON
:: McNally Robinson – Winnipeg, MB, Saskatoon, SK
:: The Next Page – Calgary, AB