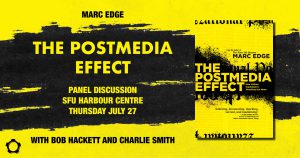 Join us for an informative and fascinating discussion at SFU's Harbour Centre campus on Thursday July 27, as Marc Edge leads a panel discussion with Professor Robert Hackett, Professor Emeritus of Communication at SFU and Charlie Smith, editor at Pancouver. The panel will use The Postmedia Effect as an anchor to examine topics surrounding Postmedia and its fall from grace, Canadian media, and democratic media policies and what they mean for the future.
Thursday, July 27th, 7:00pm
Room 1400– SFU Harbour Centre
555 W Hastings St, Vancouver
Drinks and snacks will be served after the event.
Not able to join us here in Vancouver? The event will also be broadcast live on Zoom. Be sure to register here.
Click here to find a copy of Edge's The Postmedia Effect: How Vulture Capitalism is Wrecking Our News at your local independent bookseller!
Panelists
Marc Edge is media columnist for Canadian Dimension. He has been a reporter and editor for the Vancouver Province and the Calgary Herald, and a professor of journalism in Canada, the US, Fiji, Singapore, and Malta. His doctoral thesis won the annual dissertation award of the American Journalism Historians Association and was published as his first book Pacific Press: The Unauthorized Story of Vancouver's Newspaper Monopoly. The Postmedia Effect is his latest book.
Charlie has more than three decades of experience in the Vancouver media. In that time, he has worked at CBC Radio, CBC TV News, BCTV News (now Global News B.C.),  and private radio.  He was also editor of the Georgia Straight for 17 years and taught journalism at Kwantlen University College (now Kwantlen Polytechnic University) for seven years.
Robert A. Hackett is Professor Emeritus of Communication, Simon Fraser University. He is actively engaged in research and writing and has written extensively on media democratization, and journalism as political communication. His most recent collaborative books include Expanding Peace Journalism: Comparative and Critical Approaches (2011), and Remaking Media: The Struggle to Democratize Public Communication (2006).
The Postmedia Effect in the media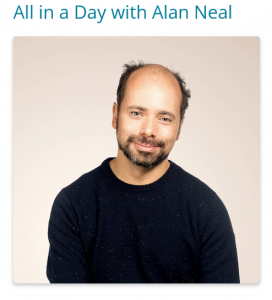 Marc Edge was a guest on All in a Day with Alan Neal on CBC Radio, where he  discusses the potential Postmedia-Nordstar merger that has stirred questions about the state of Canadian news media. He also answers the question: is the country's news industry on the verge of a Postmedia monopoly? Listen to the full interview here: www.cbc.ca
Marc Edge on CityNews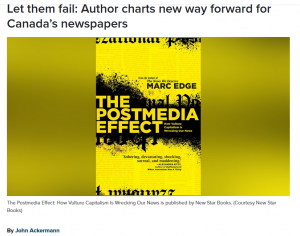 Marc Edge spoke to John Ackermann over at CityNews to discuss "the latest chapter in the long-running saga of consolidation in Canada's newspaper sector." He also discusses the failure of the Nordstar merger. Listen to the entire interview here  or read it here.