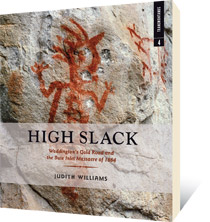 High Slack: Waddington's Gold Road and the Bute Inlet Massacre of 1864
128 pages, 8×9 inches

Price:

$16 CAD · $16 USD

ISBN:

9780921586456

Date published:

1996-01-01

Availability:

in print & available
About High Slack
"Engaging ... Williams writes sensitively and with a minimum of academic jargon ... successfully reveals some of the anxieties of the colonial project in British Columbia without losing sight of the fact that the war, far from being a mere anecdote on the colonial stage, was the 'thin edge of the wedge' of the latent violence that has always simmered just underneath the surface of the colonial enterprise more generally. .. . a desperately needed antidote to (and replacement of) Mel Rothenburger's one–sided, and ultimately racist, polemic The Chilcotin War." – BC Studies

"This engrossing and well–researched account of life in the interior of British Columbia over 130 years ago is greatly enhanced by maps and black–and–white photographs." – Canadian Book Review Annual
"An excellent introduction to a subject in British Columbia's history which has not been explored to any extent up to now." – BC Historical News
In the winter of 1861, Robert Homfray made a perilous journey up Bute Inlet to begin surveying for Alfred Waddington's 'gold road', which was to link British Columbia's coast with the Cariboo. It was hoped that the road would open up the territory to gold prospectors and homesteaders; instead, it dead–ended just above Homathko Canyon with the massacre of the road crew sent to build it. The colonial government called it murder; the Tsilhqot'in people called it war.
More than a century later, Judith Williams retraces Homfray's journey. By juxtaposing her impressions with the written and oral histories of the event, she peels back some of the many layers of 'truth' to reveal what is both a stirring tale and an engrossing glimpse of life in the Chilcotin over 130 years ago.
High Slack is number 4 in the Transmontanus series.