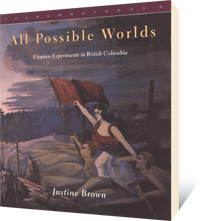 All Possible Worlds: Utopian Experiments in British Columbia
96 pages, 8×9 inches

Price:

$16 CAD · $16 USD

ISBN:

9780921586463

Date published:

1995-01-01

Availability:

in print & available
About All Possible Worlds
Justine Brown on The Tom Woods Show, January 23, 2018:

British Columbia — the last temperate part of the New World to be mapped — has long conjured up images of Utopia, a word that comes from the Greek "no place". Indeed, utopian experiments started springing up soon after the first European explorers passed through.

In All Possible Worlds, Justine Brown explores the attraction BC holds for utopian thinkers. She tells the stories of some of their idealistic communities: Metlakatla; Sointula; the Doukhobor towns in the Kootenays; the strange empires of Brother Twelve and other Gulf Island messiahs; the artist and hippie communes of the Sixties and Seventies; and much more.

All Possible Worlds is number 5 in the Transmontanus series.