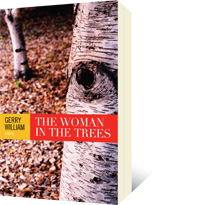 The Woman In the Trees
240 pages, 6×9 inches

Price:

$21 CAD · $21 USD

ISBN:

9781554200139

Date published:

2004-09-30

Availability:

in print & available
About The Woman In the Trees
Often, the way a story is told is as important as the story itself. This is true of the most recent novel by Gerry William, The Woman in the Trees.

Set during the time of first contact, The Woman in the Trees takes place around what is now Vernon, BC. The novel moves effortlessly from myth to dream time to narrative real time. Spanning the historical period from 1780 to 1860, The Woman in the Trees addresses a time of massive upheaval for the Okanagan people (the syilx). The coming of the horse, relations with early Europeans, and the smallpox epidemic dramatically changed the lives of the syilx.

Using traditional oral storytelling techniques, Gerry William crafts a compelling story that weaves together First Nations and Western narrative traditions. The dominating presence of Coyote chronicles the dreams and poetry of Wolverine, Blue Dreams and Horse. Early settlers, ranchers and orchardists also tell their stories of arrival.

Part historical novel, part myth for our times, The Woman in the Trees will inspire and ultimately satisfy. For as the narrator says, "there are fifty ways to tell the beginning of everything, but there is only one ending."