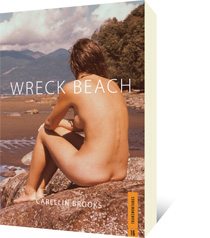 Wreck Beach
96 pages, 7×10 inches

Price:

$19 CAD · $19 USD

ISBN:

9781554200313

Date published:

2007-08-30

Availability:

in print & available
About Wreck Beach
Ever wonder how Wreck Beach got its name? Or if it's always been a nude beach? What about the nudity ––– Is it against the law? Maybe you just want to know how to get to the best spots.
Look no further: here's the book with everything you've always wanted to know about Wreck Beach, the best nude beach in the world.

On any given day throughout the year, regardless of conditions, you're bound to find a spectrum of characters frolicking on the beach or in the water or alternately, huddling in that perfect sheltered spot. If sunshine and golden sands aren't enough to lure you down, maybe the amalgam of vendors will. Wreck Beach boasts an enviable array of munchies which may include Chinese BBQ pork buns, pizza, samosas with chutney, marijuana, and magic mushrooms. Entertainment includes Frisbee, skimboarding, impromptu jam sessions and the notorious male–only game of Beerball.

Naturally pristine, yet indelibly ruled by the characters who sun, sell, and sign petitions there, Wreck Beach is a beachlover's paradise. The main beach at the bottom of Trail 6 is where the landscape is most beacher–friendly: sand as far as the eye can see, and ocean to boot. The enthusiastic work of the Wreck Beach Preservation Society has allowed it to continue to be so. The Society's committment to keeping it untarnished is reflected in its resistance to outside regulation, while at the same time emphasizing self–policing.

The first comprehensive physical and political guide and a pioneer part of Wreck Beach history, Wreck Beach is your perfect guide to its splendour whether you're a local history buff, or just like swimming in the buff.

Wreck Beach is number 16 in the Transmontanus series.