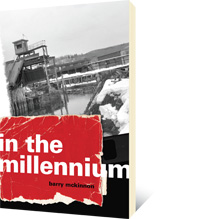 In the Millennium
144 pages, 6×9 inches

Price:

$18 CAD · $16 USD

ISBN:

9781554200474

Date published:

2009-11-20

Availability:

in print & available
About In the Millennium
In the Millennium is a thirteen–part sequence written over the last ten years that measures a wide range of the poet's experience. The writing emerges in response to human processes, conditions and places: love, sex, death, the insecurities and pressures of the inner and outer world, and the politics of person and place that act as prompts for whatever he, as the poet, is given to reveal.

Much of the poetry in In the Millennium is also informed by the abrasive grit and beauty of the north, especially in the poems "Head Out", "Prince George (Part 1)", and "Prince George Core"

"Bolivia/Peru" is a long poem that documents a trip to the poorest places in South America. But no matter what the contexts, In the Millennium articulates McKinnon's belief that the contemporary poem has to resemble the various and fractured realities it addresses — to make whatever is at hand, no matter how complex, emotionally visible.