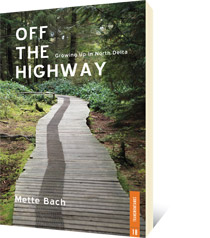 Off the Highway: Growing Up In North Delta
88 pages, 7×10 inches

Price:

$19 CAD · $19 USD

ISBN:

9781554200498

Date published:

2010-06-15

Availability:

in print & available
About Off the Highway
About thirty kilometres south of Vancouver, just over the Alex Fraser Bridge and bordering Surrey and Ladner, lies North Delta, a suburb replete with strip malls, single detached family homes and every–half–hour bus service. It was a sleepy suburb, one considered the boonies, until 1986, when as part of the Expo city–wide upgrades, the Alex Fraser Bridge was built to connect the two sides of the Fraser River.

Part social commentary, part personal memoir, and part history, Off the Highway is Mette Bach's thoughtful examination of growing up in North Delta. We learn about the valiant efforts of the Burns Bog Conservation Society volunteers who work tirelessly to preserve the Bog, North America's largest raised peat bog and one of Canada's natural wonders. We find out that her family rented a bedroom in their home to Expo 86 visitors and that her mother composted, a practice well ahead of current environmentally–responsible times. We also get a glimpse into North Delta's storied settlement in the 1860s when Alexander Loggie opened the first cannery, which supplied the British with canned sockeye salmon.

From Henry's Canadian and Chinese Restaurant run by childhood friend Elaine's parents, to Michael's Pizzeria where many North Deltan teenagers, including the author, spent their formative years, Bach takes us on a grand tour of the landmarks that define the suburbia in which she grew up.

Off the Highway is number 18 in the Transmontanus series.