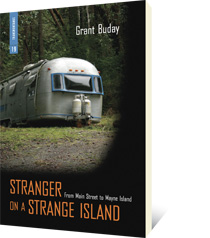 Stranger on a Strange Island: From Main Street to Mayne Island
80 pages, 7×10 inches

Price:

$19 CAD · $19 USD

ISBN:

9781554200573

Date published:

2011-05-16

Availability:

in print & available
About Stranger on a Strange Island
In Vancouver, $600 a month gets you half a bachelor suite. On Mayne Island, it gets you a three–bedroom house overlooking the waters of Active Pass, with varied wildlife and lush trees as neighbours. With that in mind, Grant Buday trades in the high–powered city life in Vancouver for the small town eccentricities of Mayne Island.

The scenery, however impressive, is not the only change. A college English instructor for six years, Buday now finds himself working wherever a hand is needed. Some of his more adventurous jobs included stealing a boat with one of the locals, who in exchange asked Buday for a word of the day; sheep herding on a deer farm with no deer; and his current part–time gig, helping out at the Mayne Island Recycling Depot.

Living on Mayne has also presented Buday with endless opportunities for learning, whether it's firewood–picking lessons from his tree–felling Mennonite neighbour Jake, or chainsaw lingo lessons from the local dealer in Sidney.

In Stranger on a Strange Island, Buday explores the layered nature of small–town life, the rich history of Mayne Island and the reasons that compelled him to trade in city life for the island life.

Stranger On a Strange Island is number 19 in the Transmontanus series.