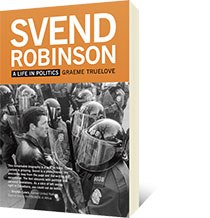 Svend Robinson: A Life in Politics
Graeme Truelove
352 pages, 6×9 inches

Price:

$24 CAD · $24 USD

ISBN:

9781554200726

Date published:

2013-10-17

Availability:

in print & available
About Svend Robinson: A Life in Politics
Finalist, Roderick Haig–Brown Regional Prize

Few politicians have enraged opponents, frustrated colleagues and polarized Canadians like Svend Robinson — but few embraced the causes he did. Over his twenty-five years as a New Democrat MP, Robinson was imprisoned for blocking loggers from clear-cutting in Clayoquot Sound, assaulted by police while protesting at the 2001 Summit of the Americas, expelled from foreign countries for defending human rights, and harassed after coming out as Canada's first openly gay MP. Robinson always took his ideals to the front lines, helping to define the Canadian left.

Though his brash tactics dominated headlines, Robinson's full story has not yet been told. In this in-depth biography, Graeme Truelove explores an accomplished life and career, including Robinson's difficult childhood, his growing realization of his own sexuality, and the bipolar diagnosis which followed his baffling, career-ending theft of a diamond ring. A portrait emerges of a complex figure — driven, gifted, visionary and flawed — who challenged his country and continues to make his indelible mark on the world.