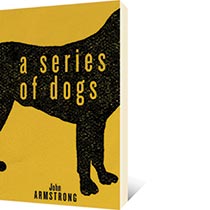 A Series of Dogs
192 pages, 6×9 inches

Price:

$21 CAD · $19 USD

ISBN:

9781554201181

Date published:

2016-11-17

Availability:

in print & available
About A Series of Dogs
Some human lives can be measured in dogs. Writer/musician John Armstrong is such a person, and in A Series of Dogs, he takes the measure of his own, now at nine dogs' lives and counting.

A hilarious, perceptive and moving memoir that is really about the dogs that have added texture and meaning to his own journey, A Series of Dogs introduces the reader to a cast of some of the most memorable characters to come along in Canadian literature in some time — all of them dogs.

Meet Ruff, the family/farm dog, who started it all; Kiltie, a cocker spaniel, longed-for and but never truly embraced, who nevertheless teaches the author an important life lesson; Spooky, the boy-and-his-dog dog, who introduces the author to heartbreak.

Chopper is another man's dog, but that doesn't stop him from getting a chapter in Armstrong's story. The reader gets to know Rip, the bandmate; Mugsy, the $5,000 Rottweiler; the story of Sluggo's redemption on Skid Road. The reader is brought into the present day with Bobo, now ten, and Seamus, the stepdog. Plus cameos by several cats that the reader will recognize.