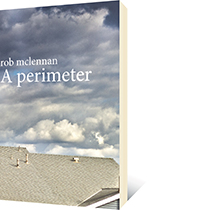 A perimeter
80 pages, 6×9 inches

Price:

$18 CAD · $16 USD

ISBN:

9781554201280

Date published:

2016-11-17

Availability:

in print & available
About A perimeter
A new child, a new house, a new neighbourhood: rob mclennan takes the measure of his environment in A perimeter, a collection of shorter and longer pieces from 2010 to 2014.

The birth of a child, and the moves that follow in its wake, brings about a defamiliarization of the world, and the poems in A perimeter reflect this newly enhanced awareness. New life, new house, new roads, new greenspaces; the news — all are caught in these keenly observed poems.

A perimeter is built around three longer works: the serial "Alta Vista Poem"; "A perimeter," a survey of the poet's new surroundings (the suburbs and countryside around his Ottawa home); and "A Rose Concordance," surrounding the first three months of his daughter, Rose. Interspersed are shorter poems reflecting on other aspects of mclennan's domestic and civilian life.