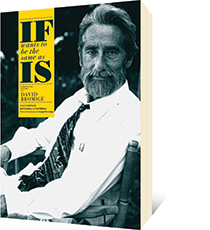 if wants to be the same as is: Essential Poems of David Bromige
David Bromige, Jack Krick, Bob Perelman
624 pages, 7×10 inches

Price:

$45 CAD · $35 USD

ISBN:

9781554201341

Date published:

2018-06-21

Availability:

in print & available
About if wants to be the same as is
Drawn from 22 books of poetry published by David Bromige in his lifetime, if wants to be the same as is chronicles the career of one of contemporary poetry's most distinctive writers.

Born in London, England, in 1933, raised in Canada, and a resident for most of his adult life of California, David Bromige is just as difficult to pin down in terms of his aesthetics. As a student at the University of BC in the early 1960s, Bromige met writers like Fred Wah, George Bowering, and Jamie Reid, who pointed him towards the American postmodernists, and eventually, to a scholarship to UC–Berkeley. There, he became immersed in the Bay Area's explosively creative poetry scene, and came to be associated with many of the L=A=N=G=U=A=G=E poets.

Bromige's own work, however, holds wide appeal and from the start resisted any sort of classification, winning praise across the literary-critical spectrum. His publishers included Black Sparrow Press (Bukowski's publisher), Sun & Moon, Brick, and The Figures, and he won acclaim from the likes of Robert Hass, the Poetry Foundation, and the National Endowment for the Arts. He died in Sebastopol, California, in 2009.

if wants to be the same as is presents a life's work that is, in the words of Bob Perelman, "beautiful, deeply amusing, continually surprising."