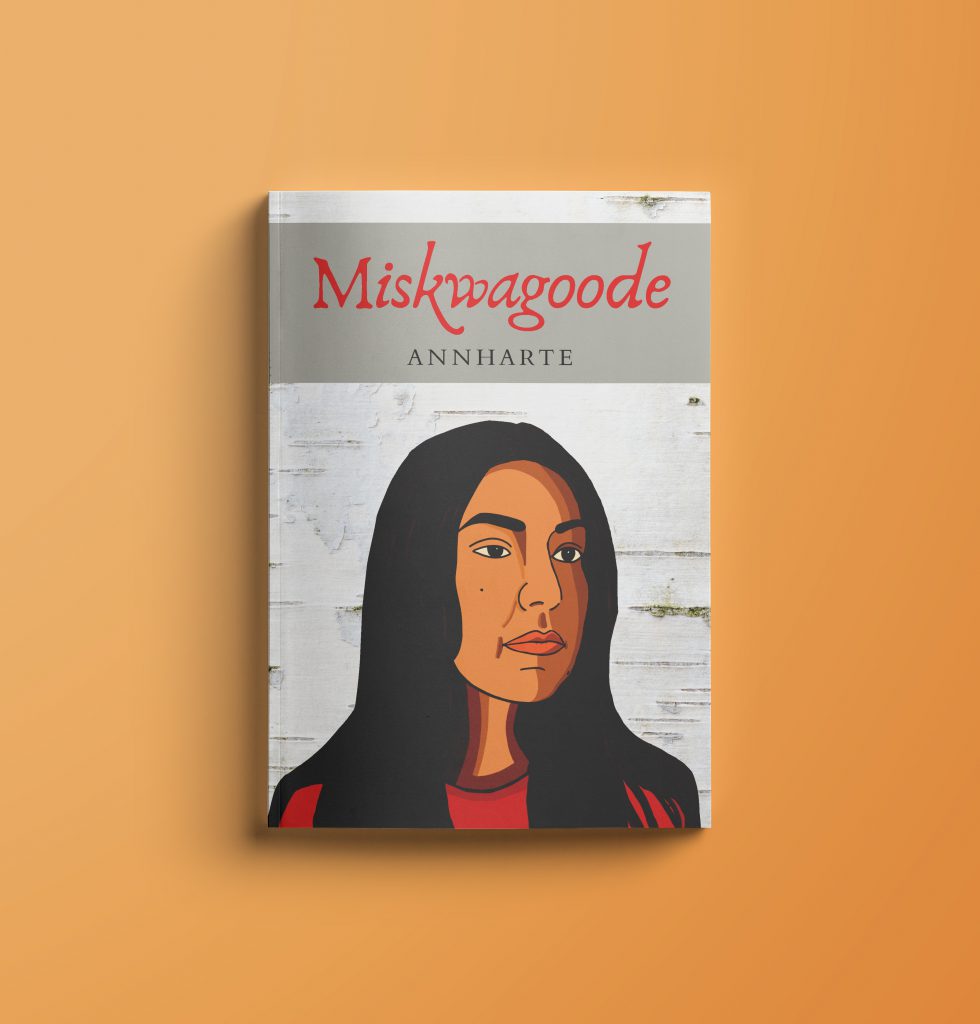 ' This surprisingly tender collection is for mothers missed, a call to "retaliation not reconciliation" for "sisters fallen not forgotten," for those we honour "valentine day winter eve / time being always time immemorial." '
—Mercedes Eng
Annharte's fourth collection of poetry, her latest since 2012's Indigena Awry, publishes today! Miskwagoode, taken from the Anishinaabe for "woman wearing red," is an unsettling portrayal of unreconciled Indigenous experience under colonialism, past and present.
With an introduction from Annharte's son and granddaughter, and featuring cover art from her grandchild, the intergenerational waves of Miskwagoode are felt throughout its pages. The woman in the red dress is Annharte, and she is Annharte's mother, who disappeared when the poet was just a girl. This is a book about mother loss, "mothermiss," about all the women "burried in common enough / cross-generational graves."
Suffused with all of Annharte's usual humour and hard-earned wisdom, the poems of Miskwagoode peek behind the "buckskin curtain" at the margins of settler society. Annharte tells us about granny circles, the horny old guys, and getting your hair done. But these poems about rez life and the community and belonging it offers are set against the background radiation of the poverty and the sicknesses, despair, violence, sexism, and sexual abuse, the legacies of unequal relations.
You'll find copies of Miskwagoode at these local independent bookstores:
:: Massy Books – Vancouver, BC
:: Iron Dog Books – Vancouver, BC
:: Novel Idea – Kingston, ON
:: Another Story – Toronto, ON
:: Type Books – Toronto, ON
:: Book City – Toronto, ON (Bloor St, Danforth Ave, Queen St E)
:: The Book Keeper – Sarnia, ON 
:: Books on Beechwood – Ottawa, ON
:: Perfect Books – Ottawa, ON
:: The Bookshelf – Guelph, ON
:: The Printed Word – Dundas, ON
:: McNally Robinson – Winnipeg, MB & Saskatoon, SK
:: Librarie Moderne – Saint-Jean-sur-Richelieu, QC
:: Livres Lac-Brome – Knowlton, QC
:: Pages On Kensington – Calgary, AB
:: Shelf Life Books – Calgary, AB
:: Bookmark – Halifax, NS
Or snag a copy online:
:: New Star Books
:: Amazon.com
:: Amazon.ca
:: Chapters
:: UTP Distribution
:: Small Press Distribution