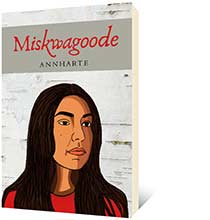 Miskwagoode
80 pages, 6×9 inches

Price:

$16 CAD · $16 USD

ISBN:

9781554201846

Date published:

2022-03-17

Availability:

in print & available
About Miskwagoode
'Granarchist coyotric Annharte's Miskwagoode brings the anticolonial fire, critique, and medicine much needed in "Canadian Literature." From pretendians to the Truth and Reconcilitation Commission to tokenism, Annharte's legendary wry humour and biting commentary will delight, but with gut punches, both new readers and those familiar with Annharte's germinal writing. This surprisingly tender collection is for mothers missed, a call to "retaliation not reconciliation" for "sisters fallen not forgotten," for those we honour "valentine day winter eve / time being always time immemorial."'
—Mercedes Eng, author of my yt mama, Prison Industrial Complex Explodes, and Mercenary English

Taken from the Anishinaabe for "woman wearing red," Miskwagoode is an unsettling portrayal of unreconciled Indigenous experience under colonialism, past and present.

Miskwagoode, the woman in the red dress, is Annharte, and she is Annharte's mother, who disappeared when the poet was a girl. Miskwagoode is Annharte's new book about her mother loss, her "mothermiss", about all the women "buried in common enough / cross-generational graves".

Marked with her characteristic sharp eye and humour, and hard earned wisdom about the "ominous progress ahead", Annharte's fifth collection encompasses the poet's experiences as an Anishinaabe Elder, "witness not survivor", writing of the weight of a present and persisting colonialism. In her sly, cheeky riffs on life behind the "buckskin curtain" at the margins of settler society, Annharte tells us about granny circles, the horny old guys, and getting your hair done. But these poems about rez life and the community and belonging it offers are set against the background radiation of the poverty and the sicknesses, despair, violence, sexism, and sexual abuse, the legacies of unequal relations.

Miskwagoode concludes with "Wabang," a suite of short poems comprising Annharte's own thumbnail transcontinental Indigenous mythology.