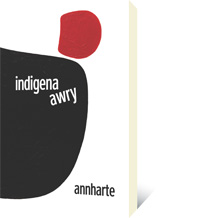 Indigena Awry
144 pages, 6×9 inches

Price:

$19 CAD · $19 USD

ISBN:

9781554200672

Date published:

2012-11-30

Availability:

in print & available
About Indigena Awry
NDN word warrior Marie Annharte Baker's fourth book of poems, Indigena Awry, is her largest and wildest yet. It collects a decade's worth of verse — fifty–nine poems.

Set noticeably in Winnipeg and Vancouver, but in many other places on either side of the Medicine Line as well, the poems are a laser–eyed meander through contested streets filled with racism, classism, and sexism. Shot through with sex and violence and struggle and sadness and trauma, her work is always set to detect and confront the delusions of colonialism and its discontents.

These poems are informed by a sceptical spirituality. They call for justice for NDNs through the Permanent Resistance that goes around in cities. This is bruising and exacting stuff, but Annharte is also one of poetry's best jokers.

In Indigena Awry, you can find fictitious girl gangs coexisting with real boy ones. NDN grannies may be found flirting salaciously in some internet chat room. One might use duct tape to prevent a war. You might be worried that hand–signalling for a Timbit on an airplane flight will be considered a terrorist act.

Annharte may be seam–walking a singular path but she is not without allies. In the United States, they could include Leslie Marmon Silko and Chrystos. In Canada, Beth Brant and Gerry Gilbert. The jazz inflections of Beat writing are often apparent in her work. She swings from a poetic madness into a mad poetics. Way under it all, acting as a deep sort of platform, could be considered the Kenyan writer Ngugi wa Thiong'o's project of decolonizing one's mind. Both sketch out an argument that we will not see, feel, or respond correctly in or to our own lives without doing this, because otherwise we will be living within a philosophical myopia generated by a bad fiction.

While Indigena Awry is written for NDN persons, it is highly recommended for truth–seekers of every nature and anarchs of word and spirit. In an Annharte poem you might lose your way only to find what's important.