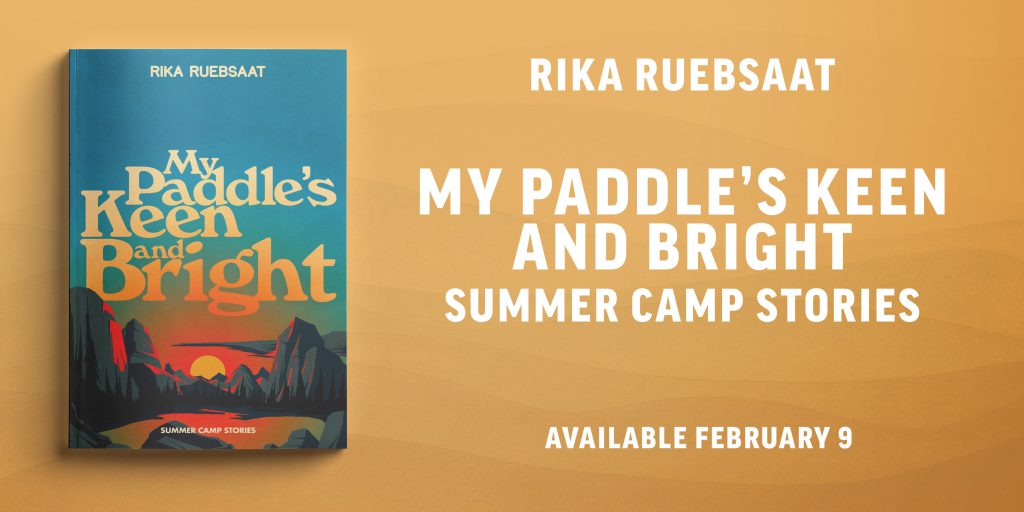 Camp veterans of all ages and backgrounds reflect on their memories of summers spent away at camp; of passionate friendships forged in the course of days; of crushes on counsellors; the campfires and songs; the skinned knees and overcome fears; and the indelible lifelong impressions these have experiences left on them.
The countdown to camp is on! Rika Ruebsaat's My Paddle's Keen and Bright is set to hit the shelves February 9.
Every facet of camp experience is described, from the bus or boat that takes you away from the familiars into a new world of strangers, to the bittersweet partings and memories lasting a lifetime. Campers describe the terror, and exhilaration, of learning about new people and different lives outside of their own families; the food, strange rituals, and exciting new adventures involving boats, or horses, or hikes, chores, even practical jokes.
Grown–ups from all social classes and outloooks established summer camps. The storytellers reflect on their experiences in the more traditional summer camps organized by Boy Scouts or Girl Guides; the camps organized by religious organizations or around political viewpoints. The differences – and, more often, the continuities – provide a fascinating and unique perspective into a world that continues to leave an indelible mark on society, even as the world of summer camp slips into history.
---
Find the book at your local independent bookstore, including:
Biblioasis :: Misty River Books :: Booklore :: McNally Robinson :: The Book Keeper :: The New Octopus :: Book City :: Another Story :: Yellowknife Book Cellar :: Laughing Oyster Books :: Books on Beechwood :: Blue Heron Books :: Black Bond Books
You can also pick up a copy of Paddle at:
Amazon.ca
Amazon.com
Indigo
Or the ebook will be available on:
Kobo
Kindle
---
Keen to get around the (metaphorical) campfire and share a few songs and stories? Here's a quick sneak peek at some upcoming events across BC, watch this space or subscribe to our newsletter for updates!
February 17 – Nanaimo Folk Connection
February 27 – St James Community Hall
March 16 – Princeton Library
March 17 – Keremeos Library
April 4 – Penticton Museum