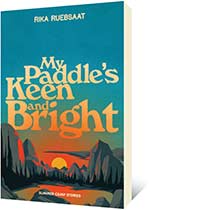 My Paddle's Keen and Bright: Summer Camp Stories
336 pages, 6×9 inches

Price:

$24 CAD · $21 USD

ISBN:

9781554201884

Date published:

2023-02-09

Availability:

in print & available
About My Paddle's Keen and Bright
Parents began sending their kids off to summer camp more than a century ago, a tradition that continues strong in the face of transformative changes to society, and childhood. The history of summer camping, with its roots in Boy Scouts and other Victorian–era social movements, is beginning to be written. But until now, less has been said about the experiences of the generations of young men and women whose outlook has been shaped by their summer vacations.

In My Paddle's Keen and Bright, Rika Ruebsaat allows the camp veterans of all ages and backgrounds to reflect on their experiences, and the indelible lifelong impressions these have left on them.

Every facet of camp experience is described, from the bus or boat that takes you away from the familiars into a new world of strangers, to the bittersweet partings and memories lasting a lifetime. Campers describe the terror, and exhilaration, of learning about new people and different lives outside of their own families; the food, strange rituals, and exciting new adventures involving boats, or horses, or hikes, chores, even practical jokes. Here are the vivid recollections of passionate friendships made in the course of a few days; of crushes on counsellors; the campfires and songs; the first fumbling sexual explorations; the skinned knees and overcome fears; the lessons learned and carried for the rest of their lives.

Grown–ups from all social classes and outloooks established summer camps. The storytellers reflect on their experiences in the more traditional summer camps organized by Boy Scouts or Girl Guides; the camps organized by religious organizations or around political viewpoints. The differences – and, more often, the continuities – provide a fascinating and unique perspective into a world that continues to leave an indelible mark on society, even as the world of summer camp slips into history.