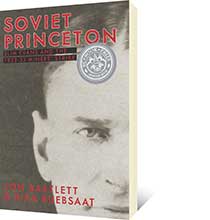 Soviet Princeton: Slim Evans and the 1932–33 Miners' Strike
136 pages, 6×9 inches

Price:

$19 CAD · $18 USD

ISBN:

9781554201099

Date published:

2015-11-12

Availability:

in print & available
About Soviet Princeton
BC Book Prizes Finalist, 2016

The winter of 1932-33 saw the small interior town of Princeton, BC divided. Charges of outside agitators and charges by mounted provincial police into picket lines of workers, Ku Klux Klan threats and a beating and cross-burning, the kidnapping of legendary labour organizer Slim Evans who was bundled onto the next train out of town (though he returned soon enough) — Princeton's few thousand citizens saw much of the human drama of the Great Depression play out right in their own lives over the course of just a few months.

A ten percent paycut, in the depths of the Depression, galvanized the miners working Princeton's three coalmines into unionizing, and they brought in Arthur "Slim" Evans from the Workers Unity League to help them. Meanwhile, north of town, one of the federal government's Relief Camps had opened up, and soon Canadian Labour Defence League organizers were at work there. "Outside agitators" became the by-word as the town's merchants and propertied establishment rallied around the cause — to defeat the "Communist menace" that threatened the prospects of their little town. They were given voice by the colourful local paper the Princeton Star, whose archives provide the source material for much of Jon Bartlett and Rika Ruebsaat's engrossing history.

Soviet Princeton provides an interesting sidebar as well to Canadian left-labour history, as two years later, one of the main actors in the Princeton drama, Slim Evans, led the On-to-Ottawa Trek of homeless and unemployed protesting the relief camps and their conditions.