The May release of Sharon Kirsch's family memoir The Smallest Objective, set in Montreal, was unavoidably quiet, what with the more immediate concerns demanding our attention back then.  Originally planned for the spring, our Montreal launch was postponed indefinitely.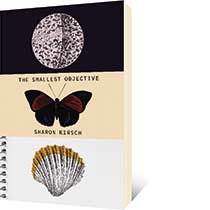 But time Zooms along, and virtuality has taken on a whole new reality.  So we are pleased at last to be able to announce the Montreal launch for The Smallest Objective on Tuesday November 24th at 8:00 pm EDT.  Please join host Jeanette Kelly and author Sharon Kirsch on Zoom for a talk about her book, and the family and civic history that comes to the surface with her mother's old age and passing.
The Smallest Objective begins with a family mystery, a story of a treasure the author's late father was said to have "buried" decades before under the master bedroom floor.  The treasure hunt takes unanticipated turns, and brings to the surface a whole bunch of clues to, and glimpses of, a history only partially comprehended at the time.   Not readily visible structures come into focus: the lingering effects of an unknown aunt's early death; the ambiguities of a black sheep uncle's life; the latent anti-semitism that altered the course of her grandfather's, and his family's, path.  These secrets unfold as the author deals with her mother's advancing dementia.
Jeanette Kelly is an arts journalist and host of Cinq à Six, Quebec's Saturday afternoon culture show on CBC Radio One.   Montreal's iconic Librairie Paragraphe Bookstore will have a (virtual) table where copies of Sharon's book can be acquired.
Overshadowed by events as it might have been, The Smallest Objective has certainly not gone unnoticed.
Ainslie MacClellan interviewed Sharon for CBC Montreal's All In a Weekend.  Watch it here.  Over on CTV News Montreal, Sharon was interviewed by Caroline Van Vlaardingen, available to watch here. Rose Marie Whalley interviewed Sharon for CKUT's Older Women program, broadcast on September 16.  You can listen to it here.
Martin Barry for the Westmount Independent interviewed Sharon Kirsch, and Mike Cohen wrote about The Smallest Objective for The Suburban.  "This new memoir is based on impeccable research, and the prose is equal parts unsentimental, edifying and engaging," Sharon Chisvin said of it in her review in the Winnipeg Free Press.  Bill Arnott's take, in the Miramichi Reader: "In this particularly well-crafted memoir, author Sharon Kirsch shares her experience of exploration, healing and loss. Akin to an intricately detailed slide under a microscope, this suite of stories, in fact, a collection of newly discovered memories, is a familial jigsaw puzzle—a series of mysteries, reassembled by way of meticulous research and the astute observation of a writer in her prime."
Over on the Internet, Books by Women ("Women Writers, Women's Books") ran an excerpt from The Smallest Objective.  It's been the subject of a podcast on The Book of Life, a popular podcast about Jewish-themed books, hosted by a children's book librarian in Florida.   Goodreader Andrew, of Toronto, Ontario, gives it all five stars, and has this to say: "A wonderful book … Memory is an important subject of the book, including the failing memories of her parents as they age. Objects, such as scraps of newspaper clippings, ornaments, postcards and seashells are also deployed with great effect, and affect — the things that remain when memory fades."  And Orcasound featured The Smallest Objective earlier this summer.  Sharon's book is even on Broadway!
The Smallest Objective was one of five books featured by 49th Shelf for September, World Alzheimer's Month.  Sharon Kirsch, incidently, is a graduate of the Humber College School for Writers, and her new book is featured in the September 2020 issue of the Humber College Alumni News.
The Smallest Objective is also available in e-book form. You can find it over on Kobo or Kindle!