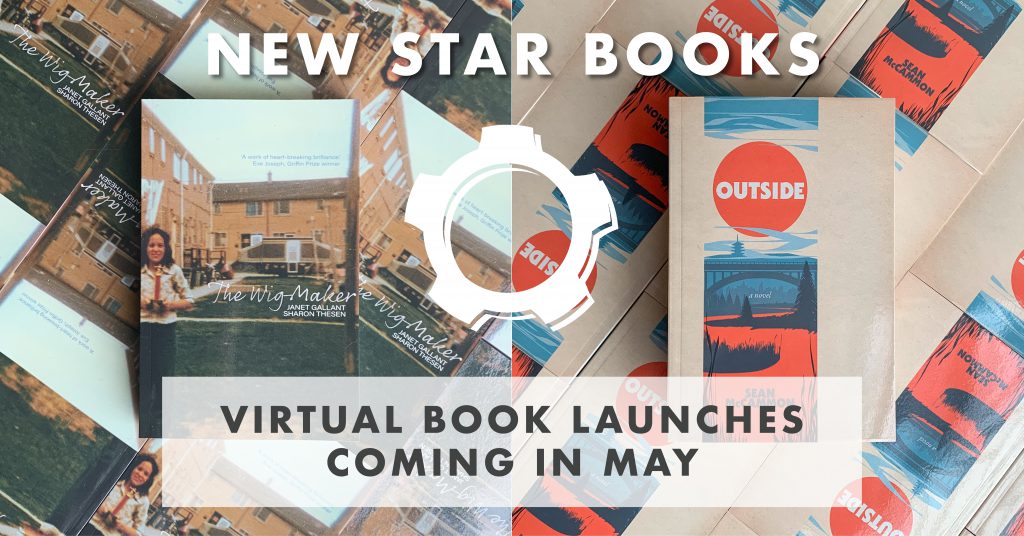 The sun is starting to shine here on the west coast and while we are still unable to celebrate in person, we invite you to join us from far and wide live on Zoom in the first weeks of May for two exciting virtual book launches.
THURSDAY MAY 6 – The Wig-Maker
First we have Janet Gallant and Sharon Thesen hosted by poet Kerry Gilbert on Thursday May 6 at 6:00 PDT for the launch of The Wig-Maker.
A powerful tale of violence, grief, resilience, and transformation, The Wig-Maker brings together Janet's voice with Sharon's verse to weave together a range of topics and incidents; the human hair industry, Black immigration to Alberta and Saskatchewan in the early 1900's, maternal abandonment, the stresses of military life, adoption search websites, the suicide of Gallant's teenage brother, the sudden death of her young husband, the stress-disorder of alopecia, and the loneliness of surviving all this and continuing to search for answers.
Described by Griffin Poetry Prize winner Eve Joseph as "a work of heart-breaking brilliance", The Wig-Maker is Janet Gallant's song; her story comes to life in Sharon Thesen's poem.
Our host, Kerry Gilbert, lives in Vernon, where she teaches Creative Writing at Okanagan College. Her first book, (kerplnk): a verse novel of development, was published in 2005 with Kalamalka Press. Her second book of poetry, Tight Wire, was published in 2016 with Mother Tongue Publishing. Little Red, is a new verse collection with Mother Tongue, released March 2019.
Register on Zoom!
Share the event on Facebook
Check out a review of The Wig-Maker in BCBookLook, watch these recent interviews with Paul Nelson and find out where you can get a copy of The Wig-Maker in this news post.
---
THURSDAY MAY 13 – Outside
Join us the following Thursday May 13 at 7:30 EST / 4:30 PDT for the launch of Outside by Sean McCammon, hosted by Susanne Ruder.
McCammon's debut novel follows David Wood, a new fourth-grade teacher, across a dual narrative between the classrooms of small-town Ontario and the hiking trails and Shinto shrines of Kyoto, Japan. During a seemingly innocuous field trip, a fateful decision leads to disastrous consequences, not just for himself but many around him. Consumed by guilt, and desperate to make sense of the seemingly random incident, David flees to Japan, going to ground with a group of eclectic world travellers in a Kyoto boarding house.
As the tragedy is recalled, a parallel narrative finds David drawn into the chaotic lives of his boarding-house companions. The group, including a food-connoisseur deejay, a crude karate student, and an Israeli draft dodger, drag David into experiences that offer hope, love, and the possibility of redemption. In a city cloaked in the ancient trappings of Buddhism and Shintoism, David struggles to draw meaning from his surroundings and experiences before being called home to answer for his actions.
Outside is an ode to the responsibility of the teacher, the healing power of friendship, and the search for meaning in a haphazard world.
Host Susanne Ruder is a Halton, Ontario-based writer whose work has appeared online and in print for more than 22 years. Credits include Profit Magazine, MoneySense, Canadian Business Online and Reader's Digest.
Register on Zoom
Share the event on Facebook
We have a list of booksellers and online retailers stocking Outside in this news post, be sure to check it out if you're yet to pick up a copy.
Can't join us on the day? No problem. Both of these launch events will be recorded and uploaded to our YouTube channel a few days later. Make sure you're signed up to our email newsletter, and following us on Facebook and Instagram so you don't miss that link.