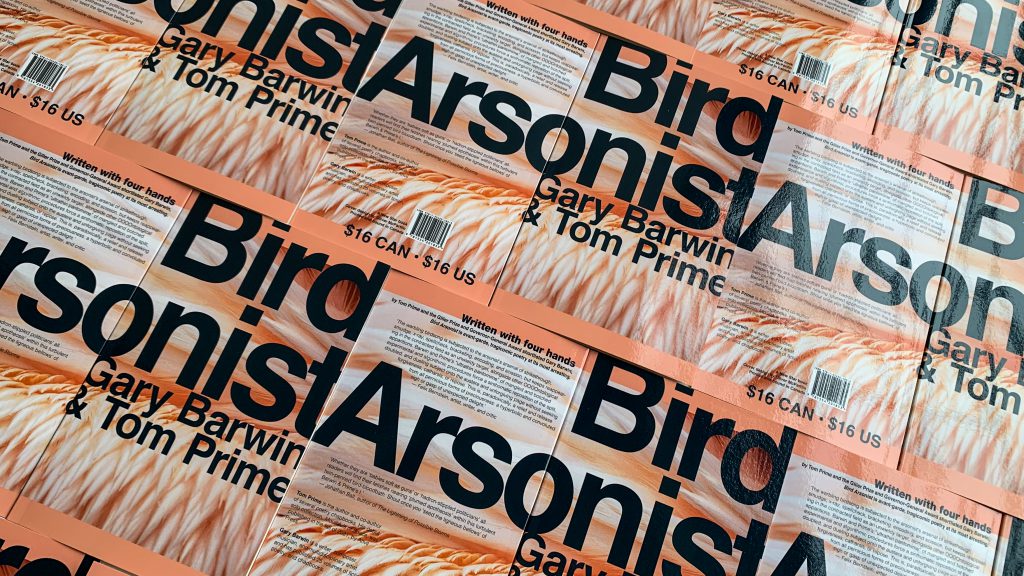 Bird Arsonist, the latest collaboration from Gary Barwin and Tom Prime, is nearly here. Publishing in just two short weeks on February 2, this twin-penned implosion of poetry does away with easy, lawful language in favour of "mangled and botched experimental and algorithmic procedures" (in the words of artist, author, and critic Felix Bernstein). In face, the author of Bird Arsonist is language itself, sonorous and fragmentary. Prime and Barwin have merely done the job of giving it the room to speak, of keeping it infected, of making visible the outline of its splinters and its cuts.
In the first review of Bird Arsonist, rob mclennan says the collection "displays a language of sound poetry shaped to the page, writing poems that play with the distortions of meaning, image and sound." This is a book that is bound to ruffle your feathers in one way or another, and you can pre-order online it right now on Amazon.ca, Amazon.com, or directly from us here at New Star.
Once you've snagged a copy, be sure to join us live on Zoom for the launch of Bird Arsonist, with host Elee Kraljii Gardiner.
Saturday, February
4:30 PT / 7:30 ET
Check out the excerpt video below for a taste of what you're in for:
You'll also find Gary Barwin at the Jewish Book Festival on February 6 with his recent, award winning novel Nothing The Same, Everything Haunted: The Ballad of Motl the Cowboy.
GARY BARWIN is a writer, composer, musician, and multidisciplinary artist and has published 25 books of fiction, poetry, and numerous chapbooks. His latest books include For It Is a Pleasure and a Surprise to Breathe, ed. Alessandro Porco, and Nothing the Same, Everything Haunted: The Ballad of Motl the Cowboy.
TOM PRIME is the author and co-author of several poetry chapbooks, including A Cemetery for Holes with Gary Barwin. His debut solo collection, Mouthfuls of Space, was published in the fall of 2021.
ELEE KRALJII GARDINER is the author of two poetry books Trauma Head, winner of the Fred Cogswell Poetry Prize, and serpentine loop, shortlisted for the Raymond Souster Award. An experienced mentor, Elee is the founding director of Thursdays Writing Collective, which supported emerging writers from Vancouver's Downtown Eastside.