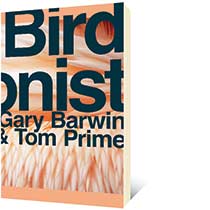 Bird Arsonist
64 pages, 5×8 inches

Price:

$16 CAD · $16 USD

ISBN:

9781554201853

Date published:

2022-02-02

Availability:

in print & available
About Bird Arsonist
"This is, paradoxically, a relief and release from all pernicious forms of preciousness: a hyperbolic and convoluted sigh or gasp of unexpected delight."
—Felix Bernstein, artist, author, and cultural critic


"Whether they are 'babies soft as guns' or 'hadron-stippled politicians' all readers will find their fetishes nearing 'plumed apotheosis' within this turbulent twin-penned bird-bloodbath. Shout once you 'seed the ligneous bellows' of Barwin & Prime's I."
—Jonathan Ball, author of The Lightning of Possible Storms


Written with four hands, by Tom Prime and the Giller Prize and Governor General's Award shortlisted Gary Barwin, Bird Arsonist is avant-garde, tragicomic poetry at its most arresting.

They say the language of birds is the closest to that of the divine. They also say poetry is the unacknowledged legislator of the world. In Bird Arsonist, Tom Prime and Gary Barwin — like all good avant-gardists — flip these commonplaces on their heads, showing that poetry sets alight any transparent, easy, lawful language, or is precisely what language spits out as it turns to ash.

Compressed to the point of implosion, the poems that make up this volume are contorted descendants of Dadaism, Surrealism, and every other -ism. Prime and Barwin confront poetry's contemporary preference for confession and today's digitization of reality not only by — as they are two — using a doubled "I," but also by letting language elide the human-all-too-human hand of authorship tout court. The author of Bird Arsonist is language itself, sonorous and fragmentary. Prime and Barwin have merely done the job of giving it the room to speak, of keeping it infected, of making visible the outline of its splinters and its cuts. Shake gently!