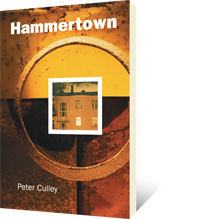 Hammertown
96 pages, 6×9 inches

Price:

$16 CAD · $16 USD

ISBN:

9781554200009

Date published:

2003-09-30

Availability:

in print & available
About Hammertown
"Peter Culley's Hammertown is experimental at its core — check the particle–accelerator serial mash of "Snake Eyes" — and, strangely, beautifully, classical on either wing of the triptych (or gatefold LP cover), as the poet deftly mixes modes and methods — a sustained lyricism shot through with riffs epistolary, pastoral, elegiac; leavened with sincere homage; ventilated by epic–ironic gestures. And then there are complete surprises, such as the doses of "tumbling verse" à la Skelton; Culley's rhymes and snapped lines, written "with dance tunes in mind," help leash the poems enough to keep their wilder energies from spinning the work off into space while nudging what can be a very dark book towards the light. [.. .]

Hammertown's rich intertextuality never unbalances the work with clumsily dropped names or awkward stabs at the merely clever; rather, it lends Hammertown a sense of the "blithe complexity" that Culley finds in, say, the Afro–beat of Fela Kuti."
––– David Perry, Pyramid News Scheme

With Hammertown, Peter Culley established himself as a stylistic virtuoso utilizing a startlingly broad range of reference to result in a body of work at once intimate and prophetic.

It is above all a portrait of a town. Caught by a passing reference in George Perec's Life A User's Manual to a "village on Vancouver Island," Culley began to re–imagine his hometown of Nanaimo, not as it is, but as it might be imagined in the mind of a Parisian who had rarely left his city.

The poems that make up Hammertown move through realms both linguistic and geographic, in which intersecting Old and New worlds, history, music and science change everyday life with both painful resonance and exotic rapture.