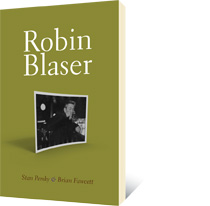 Robin Blaser
128 pages, 6×9 inches

Price:

$16 CAD · $16 USD

ISBN:

9781554200528

Date published:

2010-06-15

Availability:

in print & available
About Robin Blaser
Divided into two parts, Robin Blaser consists of two essays by people who knew Blaser intimately, as a life–long friend, a mentor and intellectual influence.

In part one, award–winning author Stan Persky offers a cohesive guide to reading Robin Blaser's poetry and the ways in which Blaser's work was "an attempted rescue or defense of poetry". In part two, Brian Fawcett discusses how Blaser inspired and guided him in his formative years as a writer at the newly–opened Simon Fraser University in Burnaby, BC.

From the authors' recollections, we are given a glimpse into the personal and professional relationships that developed between Persky, Fawcett, Robin Blaser, Jack Spicer, and many of the other poets associated with the "San Francisco renaissance" and the New American Poetry. At once a memoir and a reader, Robin Blaser is also an illustrated account of the remarkable life of the poet, with dozens of previously unpublished photographs included.

In 2007, Robin Blaser was awarded the Griffin Poetry Prize. Robin Blaser celebrates the poet, the academic, and the person. Blaser died in spring 2009.