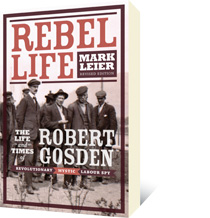 Rebel Life: The Life and Times of Robert Gosden, Revolutionary, Mystic, Labour Spy
192 pages, 6×9 inches

Price:

$21 CAD · $21 USD

ISBN:

9781554200580

Date published:

2013-09-05

Availability:

in print & available
About Rebel Life
Extensively revised throughout and including a chapter of new material, Rebel Life chronicles the life of labour organizer, revolutionary, anarchist and labour spy Robert Gosden. Mark Leier's revisions incorporate new information about Gosden's career that has come to light since the first edition was published in 1999.

Canada's west coast was rife with upheaval in the second and third decades of the twentieth century. At the centre of the turmoil is Robert Gosden, migrant labourer turned radical activist turned police spy. In 1913, he publicly recommends assassinating Premier Richard McBride to resolve the miners' strike. By 1919, he is urging Prime Minister Robert Borden to "disappear" key labour radicals to quelch rising discontent. What happened?

Rebel Life plumbs the enigma that was Gosden, but it is much more: an introduction to BC labour history: a trove of rarely seen archival photograph, and sidebars rich with historical arcana; and, with its chapter describing the research that unearthed Gosden's story, Rebel Life is a rich resource for instructors, students, and trade unionists alike.