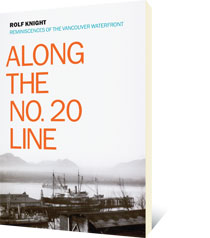 Along the No. 20 Line
232 pages, 7×10 inches

Price:

$24 CAD · $24 USD

ISBN:

9781554200610

Date published:

2011-10-03

Availability:

in print & available
About Along the No. 20 Line
In Along the No. 20 Line, Rolf Knight takes the reader on a tour through working–class East Vancouver of a century ago.

Knight's "through–line" is literally a line: the old No. 20 streetcar route that ran between downtown Vancouver and the present–day neighbourhood of the Pacific National Exhibition. From 1892 to 1949, when it was shut down and replaced by the No. 20 Granville / Victoria Drive bus, the No. 20 streetcar carried thousands of Vancouverites back and forth between their East Van homes and their jobs on the docks, and in the mills, factories, and workshops along the No. 20 line.

Knight's own recollections of growing up in an the East Vancouver waterfront squatter's community near the Ironworkers Bridge, and interviews with East Vancouver old–timers, bring the city and the era to life.

A Vancouver Legacy 125 title, Along the No. 20 Line, has become a classic of local history since it was originally published in 1980. Now in a new, larger format, this edition features a new Afterword by Rolf Knight, as well as ten new photos and new route maps.