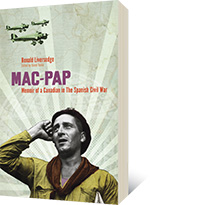 Mac-Pap: Memoir of a Canadian in the Spanish Civil War
Ronald Liversedge, David Yorke
224 pages, 6×9 inches

Price:

$19 CAD · $19 USD

ISBN:

9781554200719

Date published:

2013-09-05

Availability:

in print & available
About Mac-Pap
Ron Liversedge could hardly wait for the call from the International Brigades. A veteran of the Great War, Canada's Great Depression, and scores of battles for social justice, he wanted to get to Spain to fight against Franco's attack on the young Spanish republic. It was the spring of 1937; Liversedge was nearly 40.

The call came on May Day. Liversedge left Vancouver, on a clandestine journey through late depression North America, to a ship spiriting his fellow fighters to Europe, to an immediate brush with death when he is torpedoed by a fascist submarine, to rudimentary training of the international volunteers in Spain.

Ill prepared and ill equipped, Liversedge and his comrades in the Mackenzie–Papineau battalion are thrown into withering front line action at Fuentes de Ebro and a grinding succession of battles, steadily beaten back by the fascist onslaught, to the final exodus from Barcelona.

Liversedge's memoir of those two years, written in the 1960's, is a riveting, soldier's–eye account of life and death at the front, of the fascinating panoply of characters drawn to the Spanish struggle, of the ravages of the war on Spain and its people, and of the reasons that drove thousands of Canadians to volunteer.

After almost half a century, Ronald Liversedge's illuminating account, richly annotated and illustrated, appears for the first time.