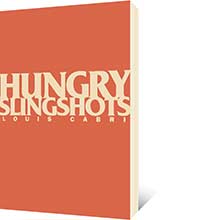 Hungry Slingshots
128 pages, 6×9 inches

Price:

$18 CAD · $16 USD

ISBN:

9781554201563

Date published:

2020-05-28

Availability:

in print & available
About Hungry Slingshots
Since his first book, The Mood Embosser, was published in 2001, Louis Cabri has established himself as one of the most distinctive, and entertaining, poets in Canada. Steeped in the transformative poetics of the post-New American Poetry of L=A=N=G=U=A=G=E, Cabri has followed that impulse into a fresh terrain that is simultaneously familiar and disorientingly strange. Hungry Slingshots, Cabri's fourth book-length work, extends his explorations into language / sensibility / intelligibility, and into the sheer sound (and silence) of the line to produce a suite of poems that return a picquant critique of the excess that stands in for contemporary normality.

Original, in the original sense of the word (i.e., returning to the earliest examples of something), Cabri's recent work opens up the resonating chambers of constraints imposed by poetry conventions — most noticeably in the title sequence, "Hungry Sling Shots," which hearkens to the French 17th century civil war and the widespread use of the triolet form — to make our oldest literary genre vibrate in new ways and in unexpectedly contemporary directions.

Predominant in Cabri's approach to the page is his consciousness of poetry as being, at its most satisfyingly salient, sound. For Cabri, more than most poets working today, meaning is all about how it sounds. In a live reading, his intonations work like the squeaks and farts of a perfectly tuned saxophone in the mouth and hands of a jazz musician. Could Louis Cabri be the Albert Ayler of contemporary poetry?

Louis Cabri has said about his work, "Fiction and non-fiction, more often than not, represent perceptions. Poetry involves more than representing perceptions . . . Poetry speaks to the mechanics of perception."