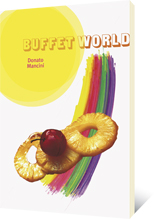 Buffet World
128 pages, 6×9 inches

Price:

$21 CAD · $21 USD

ISBN:

9781554200542

Date published:

2011-04-05

Availability:

in print & available
About Buffet World
Visually and conceptually dynamic, Buffet World is Donato Mancini's collection of poems about food, trade and life under late–late–night–snack capitalism.

Exploring the relationships between industrial food production, eating, culture and the politics of language, Mancini organises his controlled palette of words and images around metaphors of consumption and the formal device of the list. The numbers and statistics that fill the book stand as a critique of the grotesquely inhumane scales of capitalist production today – in–kind retort to the brutality of economic–fundamentalist abstractions that increasingly determine policy and regulate inner lives.

Incisive humour permeates Buffet World. The poems capture Mancini's diamond wit, as well as his dissatisfaction with the conditions of a world built on so many systemic cruelties. Buffet World underlines our inescapable complicity as (constantly) both victims and victimisers in a system that should leave us choked with rage, but more often dazzles us with a surreal spectacle of false hope.

The images in Buffet World are colourful and almost garish. The words are, in true Mancini fashion, brilliantly manipulated. Equally concerned with the violence done to our planet, our bodies and imaginations, these poems perform a deep critique, but remain accessible and fun to read.