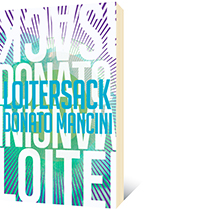 Loitersack
128 pages, 6×9 inches

Price:

$21 CAD · $19 USD

ISBN:

9781554200856

Date published:

2014-11-13

Availability:

in print & available
About Loitersack
"If the loitersacke be gone springing into a taverne, I'll fetch him reeling out."

"Loitersack" is 17th century slang for a lay-abed, a lazybones. In his new book Loitersack, Donato Mancini (You Must Work Harder to Write Poetry of Excellence, Bookhug, 2012) extends his inquiry of Canadian poetry and poetics in the form of a book that contains poetry, poetics, theory, theory theatre, and laugh particles.

In many ways a companion piece to You Must Work Harder, Loitersack works through some of the problems and questions Mancini posed in that work, a more manifest (if not traditional) work of criticism. Loitersack is in some senses a commonplace book — a scrapbook of borrowed quotations — in other senses it is the poet's personal book of critical reflections, describing a broad topography of poetic knowledge. Like all Mancini's work, it's wired for explosive laughter; and as in all his previous work, Mancini sets out to write a book unlike anything else he — or anyone else, for that matter — has ever read.