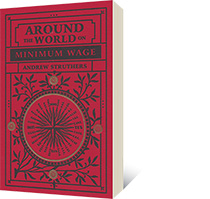 Around the World on Minimum Wage
Andrew Struthers
304 pages, 6×9 inches

Price:

$24 CAD · $21 USD

ISBN:

9781554200863

Date published:

2014-11-27

Availability:

in print & available
About Around the World on Minimum Wage
An exciting travel adventure, as the author explores darkest Scotland, equatorial Africa, remote Tibet, rainsoaked Tofino, and inner Struthers.

Victoria film maker and writer Andrew Struthers borrows the language and visual layout of the Victorian travelogue to tell his own tale in Around the World on Minimum Wage. While the stories Struthers regales the reader with are hilarious, there is a larger purpose at work, as the author explores the tensions between Eastern and Western philosophy, and how these differences work themselves out in the person of a Scottish-born, Uganda/Prince George-raised, now established in Victoria artist.

Come along with our intrepid adventurer, as he explores a subterranean bookshop in Glasgow, the scorched hills of Africa, sketches the Tibetan uprising, teaches English in Japan, flips burgers and produces plays in Tofino, all the while trying to reconcile seemingly irreconcileable contradictions.

Watch the trailer here.