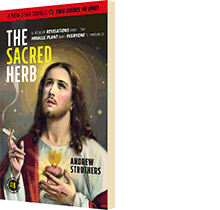 The Sacred Herb / The Devil's Weed
Andrew Struthers
208 pages, 6×9 inches

Price:

$19 CAD · $18 USD

ISBN:

9781554201150

Date published:

2017-04-20

Availability:

in print & available
About The Sacred Herb / The Devil's Weed
The Sacred Herb / The Devil's Weed is informative and even enlightening, but above all, it's a hilarious look at a humble plant that has entertained, inspired, and occasionally terrified so many for so long. Andrew Struthers directs his "brilliant madness" towards the ambivalent nature of marijuana, once the target of "reefer madness" hysteria and now available for quasi-legal purchase at dispensaries on every other block (at least in some jurisdictions).

One side of this double paperback answers all your questions about the world's most misunderstood plant, from how "the bikers of the Stone Age" spread it across Europe to why it makes music sound better. The other side is a non-stop trip as Struthers weaves together true stories, collected from 100 friends, of marijuana-inspired misadventures. The result is a book that "inverts expectations, giving your skull a little shake so that things come a little unstuck and can settle back in a slightly new way" (Focus Magazine).

With Canada poised to join several U.S. states in finally re-legalizing marijuana, The Sacred Herb / The Devil's Weed is your liferaft in the coming sativa tsunami.