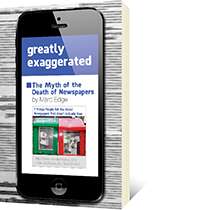 Greatly Exaggerated: The Myth of the Death of Newspapers
320 pages, 6×9 inches

Price:

$21 CAD · $21 USD

ISBN:

9781554201020

Date published:

2014-11-27

Availability:

in print & available
About Greatly Exaggerated
Pundits have long foretold the imminent death of print newspapers. These claims intensified with the rise of the internet and the recent financial crisis, but they've accompanied every media technological development of the past 100+ years: telegrams, radio, and television were all heralded as the final nail in the coffin, yet newspapers adapted and even thrived. And they're not going anywhere.

In Greatly Exaggerated: The Myth of the Death of Newspapers, Marc Edge dives deep into the history and finances of North American newspapers and media conglomerates, and comes up with a surprising conclusion: the newspaper business is far more healthy and profitable than believed. It's been roiled by greedy Wall Street investors, the doctrine of media "convergence," and of course the internet, but has proved remarkably resilient in the face of it all. Greatly Exaggerated is a thoroughly informative and entertaining look at one of our most important institutions, essential reading for journalists and newspaper readers in Canada and the US.

Read the Introduction from Greatly Exaggerated at MarcEdge.com.