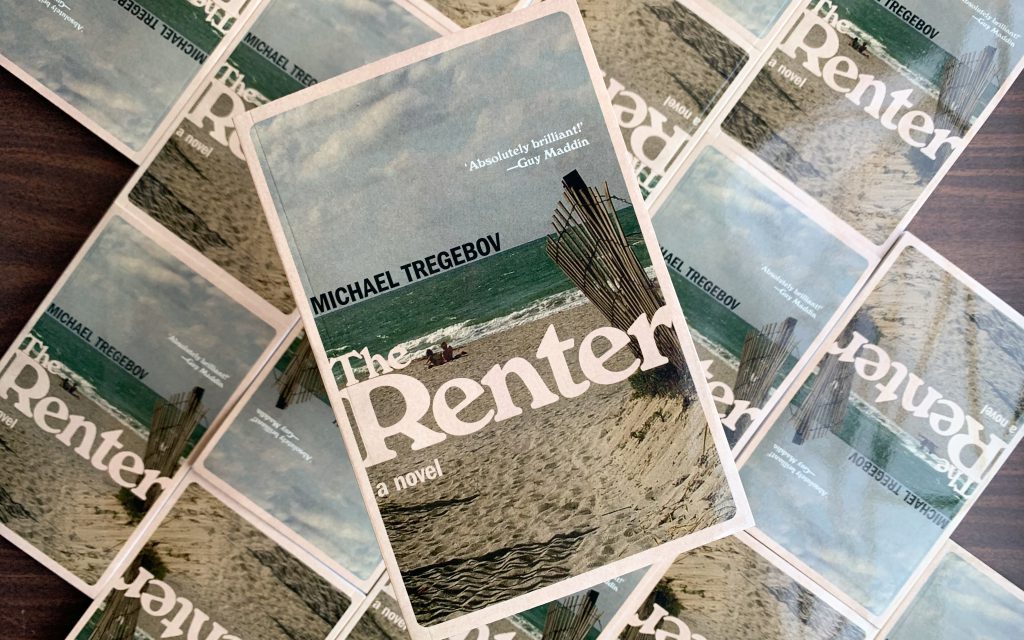 'To be twenty years old! In the summer! At a lake cottage! In the sixties! You couldn't get stronger material from which to fashion the most intoxicating myths of summery youth.
Absolutely brilliant!'
– Guy Maddin, filmmaker
The still of a time and a social milieu so close to our own that it itches. Michael Tregebov's The Renter, the fourth entry in his comédie humaine, is a sex-fuelled tour d'échec. As Bret Yeatman envisions a way out of his pot-dealing, cottage-renting, romantically precarious life through the woman of his dreams – the political, Plato-wielding, beautiful upper class Sandra Sugarman – will his gamble need more than a bluff?
---
There's nothing quite like the feeling of opening up that first box of books from the printers. The Renter by Michael Tregebov has landed and we are eager to start shipping copies out to bookstores and readers alike.
More news is brewing on how we'll be celebrating The Renter, make sure you're signed up to our email newsletter to stay up to date.
In the meantime, you can find The Renter at these booksellers:
:: McNally Robinson – Winnipeg, MB, Saskatoon, SK
:: North 49 Books – North York, ON
:: Shelf Life – Calgary, AB
:: The Book Keeper – Sarnia, ON
:: H P Tergesen & Sons – Gimli, MB
:: Whodunit Mystery Bookstore – Winnipeg, MB
:: Type Books – Toronto, ON (Forest Hill and Queen West)
:: Paragraphe Bookstore – Montreal, QC
:: Book City – Toronto, ON (Queen St E and Yonge St)
:: Bookshelf – Guelph, ON
:: Perfect Books – Ottawa, ON
:: Oxford Bookshop – London, ON
:: Black Cat Books – Sherbrooke, QC
Or online at the following links:
:: UTP
:: New Star Books
:: Amazon.ca
:: Amazon.com
:: Chapters/Indigo
Grab an ebook version below:
:: Kobo
:: Amazon.com
---
Winnipeg native Michael Tregebov's first novel, The Briss (2009), was short-listed for a Commonwealth Writers Prize, and was followed by The Shiva (2012) and Shot Rock (2019). A noted Spanish translator, he now lives near Barcelona.