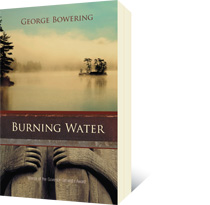 Burning Water
256 pages, 6×9 inches

Price:

$19 CAD · $19 USD

ISBN:

9781554200368

Date published:

2007-11-20

Availability:

in print & available
About Burning Water
First published in 1980 to high acclaim, Burning Water won a Governor General's Award for fiction that year. A rollicking chronicle of Captain Vancouver's search for the Northwest Passage, the book has over its career been mentioned in recommended lists of postmodern fiction, BC historical fiction, gay fiction and humour. This gives you some idea of the scope of what has been called Bowering's best novel.
"I have sometimes said, kidding but not really kidding," writes its author, "that I attended to the spirit of the west coast, and told the story about the rivals for our land as an instance in which the commanders decided to make love, not war."

As an accurate account of Vancouver's exploration of our coastline, Burning Water conveys the exact length–99 feet–of the explorer's ship, and contains citations from his journals. As a work of fanciful fiction, things usually thought to be impossible transpire, without compromising the realism of the text. Bowering recalls that his free hand with history particularly incensed the founder of the National Archives, who had written a biography of George Vancouver and complained in print that Burning Water differed too much from other, similar books in its field.