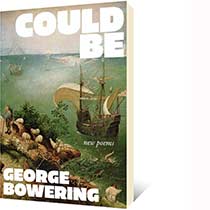 Could Be: New Poems
120 pages, 6×9 inches

Price:

$18 CAD · $16 USD

ISBN:

9781554201785

Date published:

2021-06-24

Availability:

in print & available
About Could Be
"Still producing at the height of his powers" is a cliche that rarely applies as well as it does to George Bowering's recent output. In Could Be: New Poems, gathering work since his close call five years ago, Bowering shows off a wiser, though not necessarily mellower, aspect alongside the wit and unerring ear readers have come to expect from one of our greats.

Glad to be alive, these are poems that look out into the world with fresh eyes, curious as any young poet's. Only now the shadow of mortality finally takes its proper place alongside life's many other sources of magic and wonder. Sunlight and warmth suffuse these poems, formally spanning short lyric verse, "found" stuff, and a long poem ("Sitting in Jalisco"). Rewarding attention as always, with Could Be, George Bowering adds to a substantial body of work.

Could Be launched live on Zoom on Sunday June 27, alongside Soft Zipper. Check out the event video below.