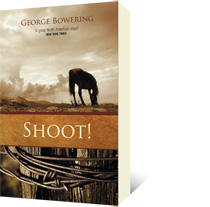 Shoot!
272 pages, 6×9 inches

Price:

$19 CAD · $19 USD

ISBN:

9781554200412

Date published:

2008-09-20

Availability:

in print & available
About Shoot!
With an Introduction by Sherrill Grace

Cowboys and Indians, sometimes one and the same, occupy the rugged landscape of the late nineteenth–century British Columbia interior in George Bowering's Shoot! Meet the McLean Gang — brothers Allan, Charlie, and Archie — and their sidekick Alex Hare. Halfbreeds who grew up bitter outcasts, rejected by both white and Indian worlds, they roam the ranch country around Kamloops on a wild spree of cattle rustling, robbery, and mayhem. Until the day they go too far and kill two men in cold blood, one of whom is the local sheriff. Tracked and captured by a posse of over a hundred men, the McLean Gang — the youngest a boy of fourteen — were tried, convicted and hanged in short order.

Originally published in 1994, Shoot! is a compassionate tale of race relations in the interior of British Columbia in the 1800s. Told with humour and sensitivity, George Bowering's imaginative re–creation of the world of the real–life McLean Gang soars into the realm of exhilarating speculation.