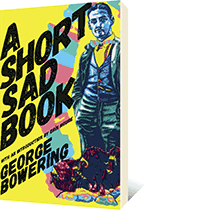 A Short Sad Book
208 pages, 6×9 inches

Price:

$19 CAD · $17 USD

ISBN:

9781554201297

Date published:

2017-03-23

Availability:

in print & available
About A Short Sad Book
With an Introduction by Erín Moure and an Afterword by George Bowering

These days, Canada is a heavyweight of world fiction, boasting some of the gaudiest names in the literary firmament, its schools graduating great writers by the frontlist. It's easy to forget that it was not always so.

Forty years ago, George Bowering saw a country still struggling to find itself in its books, and decided to write A Short Sad Book about it. Did he know he was writing if not The Great Canadian Novel something like it?

Originally published in 1977, A Short Sad Book has plenty of what you'd expect any Great Canadian Novel to have plenty of: geography, love, loons crying in the wilderness, lots of beavers. There's a romance between Sir John A. and Evangeline, a Purdy good detective named Al hot on the trail of whoever killed Tom Thompson (yes, that one), terror in the form of white rabbits from the Black Mountain, Riel, Dumont, postmodernism (there's even a character named "George Bowering"!!), and cameos by Gertrude Stein as the muse, Frank Mahovlich as the travel agent, and Jack McClelland as himself.

Poet/translator Erín Moure provides an introduction for this new edition, peeling back just enough layers of Bowering's short but incredibly rich novel to show even more layers underneath. Bowering's own Afterword provides additional context. A teachable moment in Canadian literature if ever there was one.