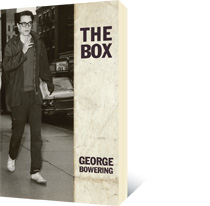 The Box
192 pages, 6×9 inches

Price:

$19 CAD · $19 USD

ISBN:

9781554200450

Date published:

2009-10-15

Availability:

in print & available
About The Box
In his first work of fiction since 2004's Standing on Richards, George Bowering, Canada's first Poet Laureate, reminds us why he is one of our country's most interesting writers. In a series of ten stories introduced by archival photographs, Bowering leads us through the glory days of 1960s Vancouver, when the Hotel Vancouver boasted an understreet level bar whose businessmen swooped in and out in trenchcoats; and a time when Japanese tourists with cameras were a novelty.

The Box breaks with the conventional genre of short stories, weaving together biography, autobiography, parable, and drama. Here is fourteen–year old Drew, transplanted from the coast to the Okanagan, and working at his first summer job picking prunes for the town MILF. Here, too, is the extraordinary tale of minor–league pitcher Bunny Watson who strings together an amazing twenty wins without a loss. Bowering trades witty barbs with the poet Phyllis Webb in the experimental story "Phyllis's Questions", while the title story "The Box" explores romantic and platonic relationships as the characters play with the art of opening a box. At times cerebral, The Box is always playful, clever, and entertaining.

Each of the ten stories in The Box has previously appeared, sometimes in different form, in the Vancouver Review, Matrix, dANDelion, filling Station, Rampike, Open Letter, Prism International, The Capilano Review and on CBC Radio One's "Sounds Like Canada".